Global Warning: Exxon's climate change deceit
Democracy Now's Amy Goodman Interviews Greenpeace's John Passacantando
Guest Blogged by Alan Breslauer
Democracy Now's Amy Goodman
interviews Greenpeace's John Passacantado
in this 10 minute clip that aired yesterday. Passacantando discusses the plight of the polar bear and the extensive effort undertaken by Exxon and the White House to mislead the public about global warming. Also worth checking out is Greenpeace's sobering website, "
Exxon Secrets
", which is essentially a searchable database evidencing the long reach of the oil behemoth's disinformation campaign. For the record, despite all appearances, Passacantando and
BRAD BLOG's
own Brad Friedman are not related.
GLOBAL WARNING:













http://Stingflation.com ... Global crisis energy Exxon ...
www.youtube.com/watch?v=p0TCdX2tQqQ
Lee R. Raymond, who retired from Exxon in December, was paid more than $686 million from 1993 to 2005.
April 15, 2006
Business
Sidebar
If Rex W. Tillerson has his way, Exxon Mobil will no longer be the oil company that environmentalists love to hate.
March 30, 2006
Business
News
:
+
+
State-corporate c r i m e
Exxonerated Rockefailure:
There Will Be Blood Orange Juice
John D.
Rockefeller's heirs urge Exxon Mobil to play nicer.
Posted Wednesday, April 30, 2008, at 5:31 PM ET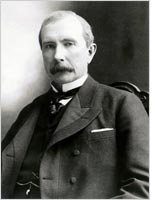 John D. Rockefeller
This morning, an unusual breakfast press conference was staged in midtown Manhattan.
The place: The Estrela Room on the penthouse level of the Parker-Meridien hotel.
The spread: Excellent. Carafes of fruit juices and flaky croissants.
The vibe: Gently throbbing Euro-pop background music.
The speakers: Neva Rockefeller Goodwin and Peter O'Neill, members of the Rockefeller family who are pushing for changes in corporate governance at Exxon Mobil, the descendant of the Standard Oil company created by John D. Rockefeller.
No family in American history has possessed more wealth, or been more conflicted about the obligations and benefits it bestows, than the Rockefellers, who are now enjoying their sixth generation of good fortune. And the mixture of modesty, politesse, and concern for the world that has characterized the Rockefeller brand for more than a century was on full display.
The Rockefeller family members were far less slick and comfortable at the podium than the executive (Stephen Heintz, president of the Rockefeller Brothers Fund) and politician (Connecticut Treasurer Denise Nappier) who accompanied them. Neva Rockefeller Goodwin, a daughter of David Rockefeller and hence great-granddaughter of John D. Rockefeller, is a Tufts University economist who elides the Rockefeller out of her professional name. She sported a blue sweater, glasses, and an unfussy mane of graying hair. Peter O'Neill, a great-great-grandson of the original, had a pen protruding from his shirt pocket. These are people who were bred not to raise their voices too forcefully in public or to brandish the family name as a weapon. Their modest delivery makes self-important pronouncements seem nonthreatening. Sample line: "As the oldest continuous shareholders of the Exxon Mobil corporation, we almost define the long-term investors," said Neva Rockefeller Goodwin. "My great-grandfather revolutionized the oil industry over a century ago."
The Rockefellers made a point of repeatedly complimenting the hired help on jobs well-done. "It's not about [Exxon Mobil CEO] Rex Tillerson," said Peter O'Neill. "He's an amazing oil and gas manager." Management, he continued, is "very good about planning these big projects and implementing them, and they should be applauded for it." But while the Rockefellers very much appreciate the $40 billion in profits Exxon Mobil earned last year, the family notes that there are "serious disjunctions that we perceive between Exxon's short-term actions and the long-term health of both this company and the economy."
The 66 adult descendants of John D. Rockefeller who signed on to this initiative (84 percent of the total) are worried: Competitors have been more aggressive on renewables and alternative energy; having the same person hold the job of chief executive officer and chairman of the board contributes to an insular culture and a lack of critical and imaginative thinking; the company isn't thinking outside the barrel to deal with climate change or prepare for regulatory changes. And so they have reluctantly decided to call publicly for shareholder votes on a resolution to separate the posts of chairman and chief executive officer, and on a resolution to have Exxon Mobil convene a task force to examine the company's assumptions about growth markets and the consequences of global climate change on poor economies.
The scions of a fortune created in the 19th century want the company to embrace the 21st century. They'd like Exxon Mobil to be an agent of change, not an obstacle to it. In boosting investments in renewables and focusing on climate change, Exxon Mobil wouldn't be succumbing to the sort of mushy, feel-good impulses that emanate from the Rockefeller Foundation, Goodwin and O'Neill argued. Rather, it would be going back to the future. The company needs to "reconnect with the forward-looking and entrepreneurial vision of my great-grandfather." After all, kerosene was the "alternative energy of its day."
Good points all, and well-delivered. But the Rockefellers, of all families, should know that Exxon Mobil is unlikely to have much success ushering in a new energy paradigm that will change the world for the better. Virtually all the good works conducted by John D. Rockefeller, and by his descendants, have been done by the nonprofit foundations and philanthropic institutions he created, not by the efficiency-seeking, for-profit machine he built. What's more, a company that depends on an established technology rarely has the incentives or ability to lead a shift to the technology that will upend the old way. The oil industry was created by a dry-goods merchant in Cleveland, not by whale-oil harvesters in New England.
In his engaging memoir, David Rockefeller notes that modesty and a relentless focus on behaving appropriately were significant—at times overwhelming—parts of the Rockefeller inheritance. And those were on full display here. When asked how many shares of Exxon Mobil the family held, Neva Rockefeller Goodwin said she had no idea. And I left with the sense that in the Rockefellers' eyes, Exxon Mobil's management is as much guilty of poor manners as it is of poor corporate governance. When Rex Tillerson was tapped as the new CEO, about two-thirds of the adult Rockefeller family members wrote him a letter, which welcomed him and asked for a meeting with him and the board. "He was not responsive to that," Neva Rockefeller Goodwin said. At another point, David Rockefeller brought his daughter to lunch with Tillerson and outgoing CEO Lee Raymond. "But I was told I had to behave myself and not say much," she said. Since then, the board and Tillerson have brushed off family requests to engage on these issues. "The responses were written by representatives of management" rather than by Tillerson himself. Which leads me to think that Exxon Mobil, while it has genius engineers and managers, must have some pretty thickheaded investor-relations staffers. If you're going to kiss off the Rockefellers, don't have a lackey do it.
Rockefeller's descendants tell Exxon to face the reality of climate change
By Stephen Foley in New York
Thursday, 1 May 2008
Descendants of John D Rockefeller, America's first and biggest oil industry magnate, say that ExxonMobil, a company spawned from his 19th-century monopoly Standard Oil, faces becoming obsolete if it does not step up the search for alternative fuels.
Fifteen family members yesterday went public in an attempt to get Exxon to face up to the realities of climate change, and they promised to join a shareholder rebellion to shake up the board to alter company's strategy.
"Kerosene was the alternative energy of its day when he realised it could replace whale oil," said Neva Rockefeller Goodwin, great-granddaughter of the oil Standard Oil founder. "Part of John D Rockefeller's genius was in recognising early the need and opportunity for a transition to a better, cheaper and cleaner fuel."
And Ms Goodwin, now an economist and environmentalist, added that Exxon was blinkered in its short-term pursuit of profits "from investments and decisions made many years ago, focusing on a narrow path that ignores the rapidly shifting energy landscape around the world, including developing nations".
The family's intervention came the day before Exxon reports what are expected to be profits of about $11bn (£5.5bn) for the first three months of the year. That figure, the equivalent of £1m every 25 minutes, could match Exxon's own record for the biggest quarterly profit in corporate history, thanks to record oil prices that yesterday stood at $114 per barrel.
Environmentalists have long pointed to Exxon as a villain of the climate change debate, since it denied a link between carbon emissions and global warming. Under its current chairman, Rex Tillerson, however, the company has softened its position, and focused on reducing the emissions from its operations.
The Rockefellers want the company to go much further, however. They are backing resolutions at the Exxon's shareholder meeting next month which call on the company to fund research into how climate change will affect developing nations. They believe a push into alternative fuels by Exxon and other major oil companies could improve the situation, and demand a new policy on funding alternative fuels.
They also want the company to set public goals for reducing carbon emissions from their output – targets which, if tough enough, would force the company to offer less-polluting products than oil and gas.
They are also demanding that Mr Tillerson split the roles of chairman and chief executive, a resolution which last year won 40 per cent of the vote.
"If the next 20 years of the energy business were just going to be about oil and gas, we probably wouldn't be here today," Peter O'Neill, head of the Rockefeller committee dealing with Exxon told reporters in New York. "Having an independent chairman leading an independent-thinking board of very experienced directors will substantially improve Exxon's ability to look the future squarely in the face."
John D Rockefeller's Standard Oil grew to monopolise the industry and the US courts broke it up into 34 separate companies 1911. Exxon and Mobil, which merged in 1999, were each descended from those new companies.
Gore fund raises $638m to tackle climate change
The fund management business led by Al Gore, the former US vice-president-turned-environmental campaigner, has raised $638m (£322m) to invest in companies developing new ways to tackle climate change.
Generation Investment Management, which is based in London, says it will put the money into renewable energy technologies, schemes to improve building efficiency, cleaner fossil fuels and sustainable agriculture and carbon markets. It is the second fund raised by Generation since its inception, and it underscores investors' increasing enthusiasm for "green-tech" ventures. Mr Gore set up the venture in 2004 with former staffers and alumni of Goldman Sachs, aiming to marry investment analysis with environmental research in the hunt for long-term financial returns.
David Blood, the former head of Goldman Sachs Asset Management, who is Generation's managing partner, said the new Climate Change Fund would be an activist shareholder in public and private companies. "Sustainable development that addresses the climate crisis will be a significant driver of industrial and economic development over the coming decades," said Mr Blood.
Stephen Foley
Energy Task Force
From Wikipedia, the free encyclopedia
In his second week in office George W. Bush created the task force, officially known as the National Energy Policy Development Group (NEPDG) with Dick Cheney as chairman. This group was supposed to "develop a national energy policy designed to help the private sector, and, as necessary and appropriate, State and local governments, promote dependable, affordable, and environmentally sound production and distribution of energy for the future."
On May 16, the NEPDG released its final report which can be found at http://www.whitehouse.gov/energy/National-Energy-Policy.pdf
[edit]
Controversy
With both Bush and Cheney coming from the energy industry, which had contributed heavily to their campaign, and with the group proceeding in extreme secrecy, critics charged that the energy industry was exercising undue influence over national policy.
Congressmen Henry Waxman and John Dingell prompted the General Accounting Office (GAO), the investigative arm of Congress, to pursue Congress's oversight authority. Eventually the GAO filed a lawsuit known as Walker v. Cheney against the administration. This represented a power struggle between the legislative and executive branches. Judge John D. Bates, a recent Bush appointee, dismissed the case but did not rule on the Executive Privilege issue.
Most of the activities of the Energy Task Force had not been disclosed to the public, even though Freedom of Information Act (FOIA) requests (since 19 April 2001) have sought to gain access to its materials. The organisations Judicial Watch and Sierra Club launched a law suit (U.S. District Court for the District of Columbia: Judicial Watch Inc. v. Department of Energy, et al., Civil Action No. 01-0981) under the FOIA to gain access to the task force's materials. On 5 March 2002 the US Government was ordered to make a full disclosure; this has not happened, pending appeal. In the Summer of 2003 a partial disclosure of these materials was made by the Commerce Department. This resulted in the release of documents, maps, and charts, dated March 2001, of Iraq's, Saudi Arabia's and United Arab Emirates' oil fields, pipelines, refineries, tanker terminals and development projects. That case eventually went to the Supreme Court and the ruling was to send the case back to the Court of Appeals.
On April 4, 2001, representatives of 13 environmental groups, including Erich Pica of Friends of the Earth and Anna Aurilio of the U.S. Public Interest Group, met with the Task Force (although not with Vice President Cheney personally). [1] Environmental groups have speculated that this meeting was an attempt to appease them, since it is reported that a draft paper had already been produced at the time of this meeting and that half of the meeting was spent on various members introducing themselves. No further meetings between the task force and the environmental groups were reported, although there had been at least 40 meetings between the task force and representatives of the energy industry and its interest groups [1]
The Washington Post reported on November 15, 2005 that it had obtained documents detailing how executives from major oil corporations, including Exxon-Mobil Corp., Conoco, Royal Dutch Shell Oil Corp., and the American subsidiary of British Petroleum met with Energy Task Force participants while they were developing national energy policy. Vice President Cheney was reported to have met personally with the Chief Executive Officer of BP (formerly British Petroleum) during the time of the Energy Task Force's activities. In the week prior to this article revealing oil executive involvement, the Chief Executives of Exxon-Mobil and ConocoPhillips told members of the US Senate that they had not participated as part of the Energy Task Force, while the CEO of British Petroleum stated that he did not know. Regardless of whether the executives were under oath, if these statements were knowingly and materially false and deceptive then they were illegal per the The Fraud and False Statements statute (18 U.S.C. 1001) [2]. In response to questions regarding the article, Cheney spokesperson Lea Ann McBride was quoted as saying that the courts have upheld "the constitutional right of the president and vice president to obtain information in confidentiality." [3]
On July 18, 2007, the Washington Post reported the names of those involved in the Task Force, including at least 40 meetings with interest groups, most of them from energy-producing industries. Among those in the meetings were James J. Rouse, then vice president of Exxon Mobil and a major donor to the Bush inauguration; Kenneth L. Lay, then head of Enron Corp.; Jack N. Gerard, then with the National Mining Association; Red Cavaney, president of the American Petroleum Institute; and Eli Bebout, an old friend of Cheney's from Wyoming who serves in the state Senate and owns an oil and drilling company.[1]
[edit]
References
[edit]
Sources


Dean, John W. (2004). Worse than Watergate: The Secret Presidency of George W. Bush. Little, Brown. ISBN 0-316-00023-X.
[edit]
External links
From Judicial Watch:
Other Sources:
---
Page mailing to a friend temporary disabled